So, last week was the Pro Football (read: NFL) Hall of Fame induction ceremony, and Hall of Fame game.  Inducted this year were Redskins Art Monk and Darrell Green, coach and player Emmitt Thomas, Patriot Andre Tippett, Viking/Bronco Gary Zimmerman, and probably the original pass rush specialist Fred Dean.
But, as it seems like every year, there were players who many felt should have gotten in, but didn't.  Topping this years list for most people was wide receiver Cris Carter–who many felt was only made to wait so Monk could get in before him (despite Carter being better than Monk or Michael Irvin, who was somehow inducted last year in his first year of eligibility).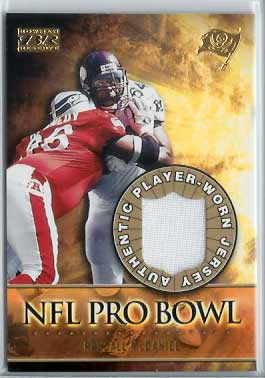 However, at the top of my Hall of Fame Snub List–for the second year in a row–was Viking guard Randall McDaniel.
McDaniel was a first round pick of the Vikings in 1988 out of Arizona State.  He stepped into the lineup almost immediately, starting 15 of 16 games his rookie season, and in his second season started a string of 12 consecutive Pro Bowl appearances.  His third season started a string of nine consecutive All-Pro selections (seven first team, according to Pro-Football-Reference.com), and the probably the only reason he wasn't on both the NFL 1980's All Decade Team and the 1990's All Decade Team (Zimmerman was the only player on both teams) was due to his being drafted so late in the 80's. 
McDaniel was also known for his strange stance, in which his left foot was dropped back with his ankle almost touching the ground, which he developed in the result of a knee injury in his second season, and for moving into the Vikings backfield in goal line situations (although from my memory, they only handed him the ball twice, and threw to him once–either an incompletion or it was called back–although he did finally score with the Buccaneers in 2000).
Also of note was that after missing two games in his second season, he did not miss a game in his career–from 1990 to 2001 he started 202 consecutive games.  Even more impressive, in that time frame, he didn't even miss a practive.  Hell, I remember reading at one point during his time in Minnesota that he went something like three seasons without missing a blocking assignment on a play.
And, to top it off, he wasn't an attention hungry star–he did his job, kept his mouth shut, and led the team by example, rather than through the media.
That he didn't make the Hall of Fame in 2007, his first year of eligibility, was shocking.  That he didn't even make the finalists list should have been the biggest sign to date that the selection process is SEVERELY flawed.  That he didn't make the cut again in 2008 is just further proof of that–although at least he made the finalists list in 2008.  If he doesn't make it in 2009, they might as well close the damn place.
The card of McDaniel selected for the week is his 2000 Bowman Reserve Pro Bowl Jerseys card.  It is #PBRM in the set, and has a "book value" of $15.  I got mine for considerably less on eBay, as he is one of the few football players that I do tend to collect.